The Rev Elvis & Friends Blue Christmas

Jubilee Auditorium – Nov. 29, 2010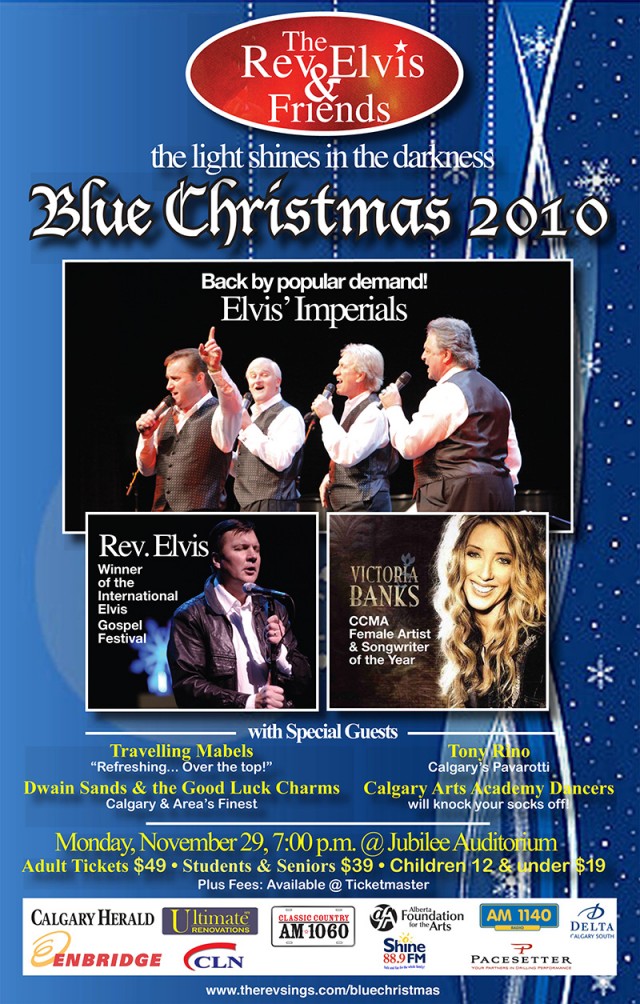 The 2010 Performers
Watch the 2008 Finale Video
Maybe It's Time by Rev Elvis
including appearances by all of the 2008 performers
Recorded live at the The Rev Elvis & Friends Blue Christmas 2008.
Watch the 2008 Finale Video
More About The 2010 Performers
Elvis' Imperials
Performed with Elvis, Gospel Legends
www.elvisimperials.com
Elvis' Imperials were among the vocalists who worked with Elvis on his How Great Thou Art album in 1966. They also backed him on stage from 1969 to late 1971 and did backing vocals for his Grammy-winning gospel album He Touched Me and other studio recordings and live concert recordings during that period. There were personnel changes within the group over the years. The members known for performing on stage with Elvis are Terry Blackwood, Greg Gordon, Armond Morales, Joe Moscheo, Jim Murray and Roger Wiles. Sherman Andrus began work with Elvis' Imperials after their time with Elvis, but joined in with the group's ongoing friendship with him. As of 2005, there is an active Elvis' Imperials group with Sherman Andrus, Terry Blackwood, Gus Gaches and Joe Moscheo.
Victoria Banks
CCMA Female Artist and Songwriter of the Year
www.victoriabanks.net
The 2010 Canadian Country Music Awards in Edmonton marked a life-changing moment for Victoria Banks, awarding her CCMAs for both Songwriter of the Year and Female Artist of the Year in the wake of her breakout debut album "When You Can Fly" (which also made her the CCMA's most nominated female artist of 2009). She has been labeled a "new sensation", "Canada's secret weapon", and "an overnight success". But tell that to Victoria, and she throws back her head and laughs. "Wow, 'overnight success?' I feel more like a survivor!"
Bruce Sheasby, aka The Rev. Elvis
Winner of the International Elvis Gospel Festival
www.therevsings.com
YouTube Video: Rev Elvis – "How Great Thou Art" – Recorded live at The Rev Elvis & Friends Blue Christmas 2008
YouTube Video: Rev Elvis – "Maybe It's Time" – Recorded live at The Rev Elvis & Friends Blue Christmas 2008
Rev. Bruce Reinhold Elvis Sheasby was born in Vancouver, B.C and has always had a love for Rock & Roll, Elvis Presley's music, the Gospel and the pioneering Spirit of the West. His motto is "Having faith is Fun!" At Age 16, Bruce sang "Jailhouse Rock" on "The Gong Show." Recently he performed "Peace in the Valley" at the world renowned "Crystal Cathedral." In 1997, he hosted and won "The International Elvis Gospel Festival" in the small town of Vauxhall, Alberta, as a church fundraiser, which received International News coverage. It was at that time that he was dubbed "The Rev. Elvis" by a Toronto Sun reporter. He has a CD "The Rev Sings a Tribute to the King – Maybe It's Time" including his original songs and hits of Elvis Presley. Rev. Sheasby, B.A., M.Div., is also an ordained minister and the Founding Pastor of the Spiritual Community Church of the West (SCCW), a non-denominational, federally incorporated and registered charity; with a mission to bridge good news beyond walls and boundaries, in a way the builds partnerships and makes our community and world a better place. As Executive Producer of Blue Christmas Productions, a division of SCCW, his goal is to lift up performing arts as a way to share God's love and support worthwhile causes in our community. This will be Rev. Elvis' 16th annual Blue Christmas and he is most excited to be returning to host this event for the first year at the Southern Alberta Jubilee Auditorium; with an incredible line up of talent and the greatly appreciated support of community sponsors.
Tony Rino
"Calgary's Pavarotti"
www.tonyrino.com
YouTube Video: Tony Rino – "O Holy Night" – Recorded live at The Rev Elvis & Friends Blue Christmas 2008
Tony Rino's passion for spirited music began in his teens. Singing as a "hobby," Tony has become an entertainer, fundraiser and recording artist. He has performed for dignitaries including the Prime Minister of Canada, Italy's Ambassador to Canada, and the Roman Catholic Bishop of Calgary. He sang with the Calgary Opera Chorus and has also made TV and radio appearances as the Singing Chef. Tony sang National Anthems for eight seasons at over 200 home games for the Calgary Flames and has performed Anthems at many other sporting events including the Calgary Stampeders, Calgary Hitmen, Calgary Cannons, and Calgary Vipers home games. Tony's charitable performances have benefited Project Rachel, Saint Vincent de Paul, L'Arche, Development & Peace, The Mustard Seed Street Ministry, The Annual Bishop's Appeal and many others including The Canadian Cancer Society, Rotary International, The Royal Canadian Legion and VoicePrint. Tony's second CD "Prego" was released in 2006, with a portion of sales being donated to charities. Prego is a collection of sacred tenor favourites and traditional Italian songs. His debut CD "Grazie" sold out in 2005, generating over $13,000.00 in funds for charities. Tony's music is available on iTunes.
The Travelling Mabels
a refreshing new sound
www.thetravellingmabels.com
Dwain Sands & the Good Luck Charms
Alberta's finest musicians
www.myspace.com/dwainsands
YouTube Video: Dwain Sands & the Good Luck Charms – "I Saw the Light" – Recorded live at The Rev Elvis & Friends Blue Christmas 2008
Dwain Sands is an Alberta entertainer whose roots are planted in traditional country and rock 'n' roll music. He began his musical career by playing the piano in his father's weekend dance band at age twelve and by sixteen had his own band that travelled throughout north-central Alberta. Dwain currently owns and operates The Loft Recording Studio in Black Diamond, where he has worked with many of Canada's finest artists including, Amos Garrett, Ian Tyson, Cindy Church, Donna Kay, Paul Rumbolt,The Rev. Elvis, Willie P. Bennett, Spider Robinson, Jake Peters, Billy Cowsill, Myron Szott, Nathan Tinkham,The Sheep River Rounders and Brent McAthey. Dwain still loves to perform live and remains true to his traditional roots, delivering a variety of timeless numbers from Lefty Frizell to Billy Joel.
The Goodluck Charms
Dwain Sands, Piano
Neil Gorrey, Drums
Julian Kerr, Bass
Ralph Buschmeyer, Guitar
Donna Kay, Vocals
Rob Levesque, Vocals
Sue Levesque, Vocals
Kelly Vance, Vocals
Calgary Arts Academy Children Dancers
Will knock your socks off
www.calgaryartsacademy.com
YouTube Video: A Song for Spirit – The Calgary Arts Academy Dancers
YouTube Video: Rev Elvis & The Calgary Arts Academy Dancers – "It Takes a Whole Village/Dance with the Spirit" – Recorded live at The Rev Elvis & Friends Blue Christmas 2008
In 2009, an injured golden eagle was shot and left for dead beside a gravel road near Lethbridge. A passing motorist saw the injured bird and took it to the nearby Birds of Prey Centre in Coaldale. As a result of his injuries, "Spirit" – as the eagle was named by local students, is totally reliant on human care, and resides there permanently.
When grade 1 and 2 students learned of Spirit, they decided to have a bake sale, and to write a song to "cheer him up." Students wrote the song and invited Spirit and his caregiver, Colin Weir to come to the school to hear the song. The children's voices seemed to have a calming effect on Spirit, and as well, moved the audience emotionally.Teachers felt that the song should be recorded by an accomplished performer, and a CD of the song was dropped off at Ian Tyson's Navajo Mug coffee shop in Longview, Alberta in hopes that Mr. Tyson would be interested in recording it. Ian felt that the song was both powerful and symbolic, and recorded the song with the children in the Spring of 2010.Calgary Arts Academy heard of the Travelling Mabels through Ian Tyson. Ian believes strongly in the Mabels talent, has had them open for him recently, and has even written a song especially for them which is coming out soon on their new CD. Calgary Arts Academy is very pleased that the Mabels will be singing A Song for Spirit onstage with both the children and Spirit!
Artists Elite Dancers
Misc. Photos from 2010 Concert