Jody Seeley  interviews Rev Elvis about the upcoming 2013 show (Sun Country 99.7FM, Dec 06, 2013)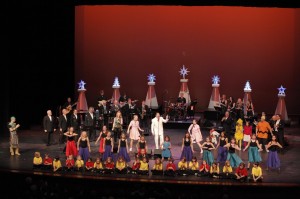 Watch Rev Elvis preview his "Anti-bullying Blue Suede Shoes Shuffle"  for the radio staff at Sun Country99.7FM.
From an Interview with Darrel Janz on "INSPIRED"

(CTV Calgary, Dec. 07, 2011)
"Reverend Elvis helps remove the Christmas blues"
There are thousands of people who make a living impersonating Elvis. Some do a good job of looking the part, others are pretty good at singing like the king of rock and roll.  He's the reverend Bruce Sheasby, pastor of a congregation that meets in a local hotel.Every Christmas he puts on his blue suede shoes and pays tribute to the king of rock and roll.   "A Blue Christmas with reverend Elvis and friends" is a fund raiser that benefits a variety of charities."This year we supported, I believe, about ten agencies including CUPS, STARS air rescue, The Calgary Herald Christmas Fund the Calgary Homeless Foundation," says Sheasby, the 'Reverend Elvis'.Not only does the event provide money, it also raises awareness.   "Obviously the donation itself, the financial donation is extremely welcome," says Cameron Heke of STARS Air Rescue. "It contributes to us being able to fly these emergency missions, but the awareness piece is very important."
Blue Christmas has come a long way since Sheasby was pastor of a little church in Vauxhall.  "My idea was to try to bridge out beyond the walls of the church and to invite people of different religious backgrounds and no religious background for an event," says Sheasby.  The show spreads the Christmas message to people of different faith backgrounds.  At this year's Blue Christmas, one of the performers was Shawn Rae, a Muslim singer who was born in Pakistan but now lives in the United States.  For using his ability to sing like Elvis to benefit others, Rev. Bruce Sheasby is this week's inspiring Albertan.
"Rev. Elvis and friends raise thousands of dollars at  charity gig" 
(Calgary Herald – November 30, 2011)
Calgary's Elvis-impersonating pastor was joined on stage Tuesday night by country legends, dancers and many other artists to raise money for various local charities. The Rev. Elvis and Friends Blue Christmas 2011, put on by Blue Christmas Productions and sponsored by Pacesetter Directional Drilling, took centre stage at the Jubilee Auditorium.
The lineup included country superstar Charlie Major, Canadian Country Music Hall of Fame legend Ray Griff, world champion hoop dancer Lisa Odjig, multi-talented singer-speaker-designer Shawn Rae, and Bruce Sheasby – Calgary's own king of rock and roll – to name a few.
In addition to showcasing local talent, the concert also raises thousands of dollars for charity, said Chad Robinson, Pacesetter's chief financial officer.  "This concert has been going on for five years now and every year, the amount of money raised for charity has increased," Robinson said. This year, nearly $65,000 will go to a number of local organizations, including the Calgary Herald's Christmas Fund, STARS, and the Calgary Urban Project Society, which will use the funding to provide childhood development services to low-income Calgary families. Robinson said the event has raised about $100,000 since its inception. "It's a great family event, it will help a lot of charities that need this support, and it kicks off the Christmas season," Robinson said.